Double worm wheel cutter machine function:
  This series of double worm-wheel double-rail slotless table cutter has obtained utility model patent. Patent No.: ZL 2007 2 0192036.X. High-speed ball screw, linear guide and slotless worktable form a box-type paper feeding mechanism Ensure that the paper feeder is positioned accurately under high-speed motion, the paper pressing mechanism is hydraulically driven, and the pressure is steplessly adjustable, and the pressure regulating range is large. The cutting mechanism is driven by the worm bar through the electromagnetic friction clutch to drive the double worm wheel while dragging the knife. The bed is equipped with an overload safety device, an infrared photoelectric device, an electronic knife lock device, and a two-handed synchronous button operating device. Therefore, this series of machines has the characteristics of large cutting force, high cutting precision, convenient and safe operation, and sturdy and durable. It is especially suitable for cutting all kinds of honeycomb paper, cardboard, PC board and other hard materials.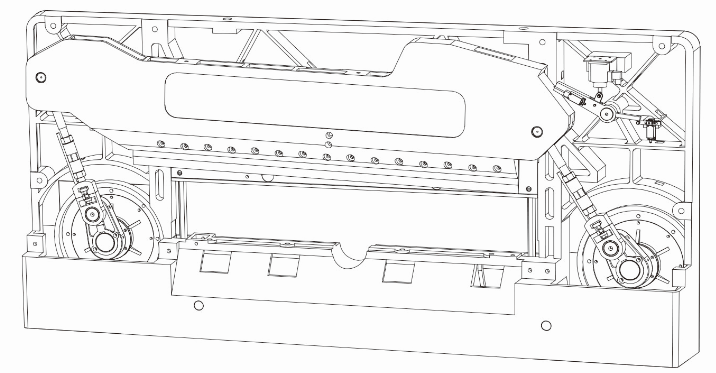 2. Double-rail paper feeding system: The paper-feeding system adopts Taiwan imported linear guide rail and ball screw, which is wear-resistant and strong against impact. 3. 10-inch TFT color touch screen: This series of program-controlled computer display adopts 10-inch industrial man-machine interface. The main components of the computer are American industrial grade chips, multi-language operation interface, and equipped with electronic handwheels, which makes the user more user-friendly. . It can realize self-diagnosis function and animation operation mode display. The programming capacity is up to 5000 groups, and each program group has 999 different positions of cutting data, and the data memory is stored for more than 300,000 hours, thus ensuring reliability and stability. The paper feeding motor adopts imported Japanese AC digital servo control system, the feeding speed is 6-20 meters, and the feeding positioning accuracy can reach 0.01 mm.
  4. Safety protection system: The machine adopts safety devices such as light control safety device, cutting action two-hand synchronous button operation, electronic knife lock single cycle cutting, etc. to protect the operator from safe operation.
  5. Overload protection device and safe and quick tool change method
  6. Blade ejection device
  7. Workbench chrome treatment: The surface of the workbench and the side panels are chrome-plated to enhance the smoothness and precision of the surface.
  8. Working platform air beads: The entire working platform evenly distributes the air beads, making the paper feeding work more convenient and easy.
  9. Special electronic knife lock: provide safety factor and improve production efficiency
  10. Heavy-duty resin sand body, no warping.
  11. Optical pairing line light device provides production efficiency.
  12.Quality Standard: The quality of this series of paper cutters conforms to the machinery industry standard of the People's Republic of China JB/T 8115 -2010
  13. Safety standards: Meets European CE standards.
  Technical parameters:
| | |
| --- | --- |
| Model | SQZK2200DH-15 |
| Max cutting width | 220 |
| Max cutting length | 220 |
| Max cutting height | 16.5 |
| Main motor power | 11 |
| Cutting speed | 45 |
| Weight | 10000 |
| Width of machine with sideway | 430 |
| Width of machine without sideway | 412 |
| length | 377 |
| height | 177 |
| Smallest cut without false clamp | 5 |
| Smallest cut with false clamp | 11 |
| Knife thickness | 246x16x1.37 |
| Packing size (LxWxH) | 440x206x240 |